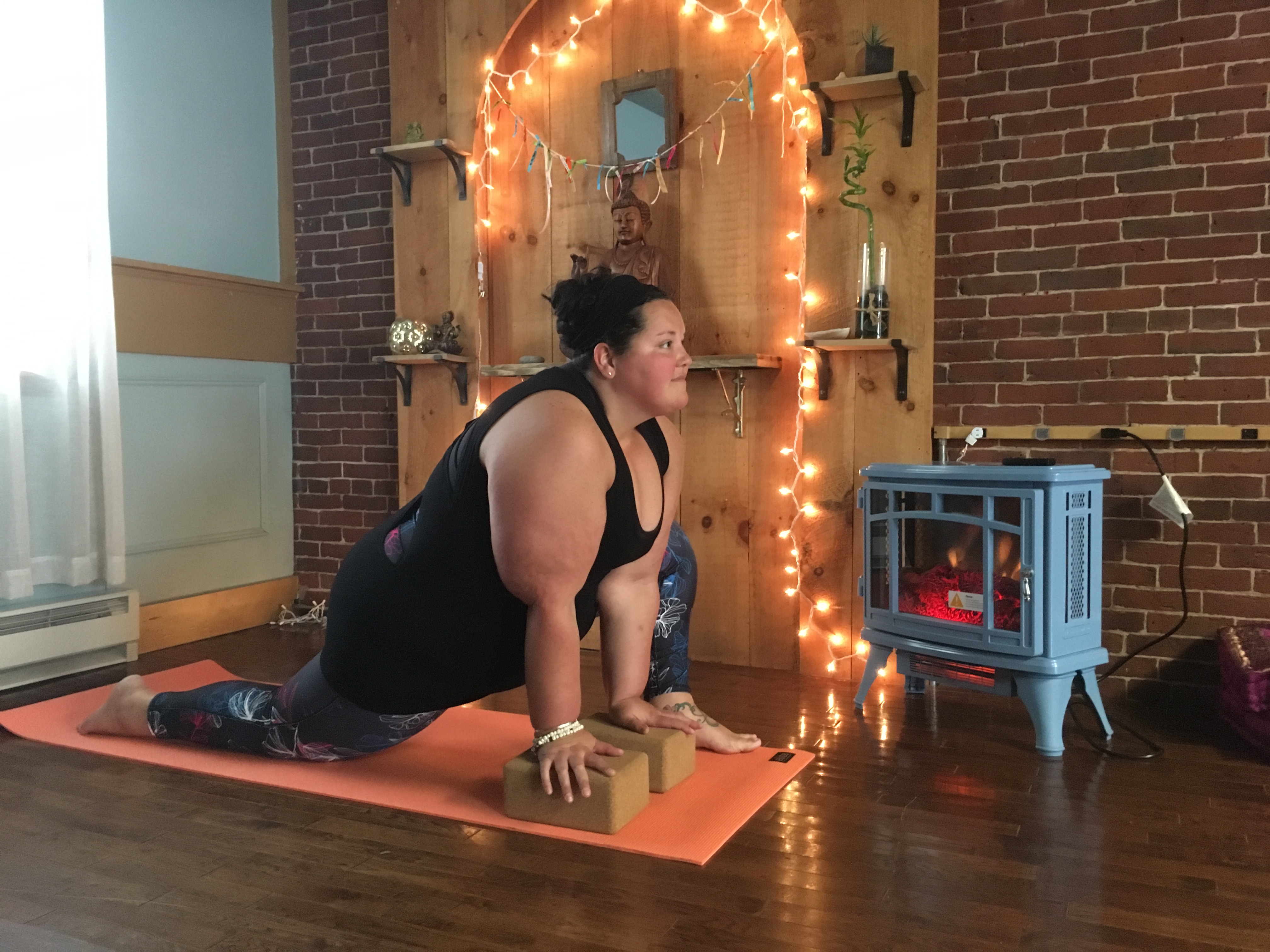 What brought you to yoga?
I can't recall my very first experience with yoga, but maybe five to six years ago I found myself in a heated vinyasa flow class with my personal trainer at the time. She wanted me to add yoga to an already intense exercise program, coupled with a strict diet, to help with weight loss and building lean muscle mass. I struggled through every single pose, but the difficulty was worth spending an hour or so in excessive heat and humidity during the dead of winter.
I recently returned to yoga with a different motive – calming my excessively anxious mind. I battle daily with anxiety and panic disorder. When I read the description for the Mantra, Movement and Meditation workshop hosted at Samudra this spring, I signed up without thinking twice. I needed to find relief and that workshop sounded promising. I felt an incredible sense of bliss after that workshop and knew I needed to budget and schedule yoga into my life. Since then, I have taken at least two classes a week with added at home practice.
What is your favorite thing about yoga?
Unlike my first endeavor into yoga, I now appreciate it is not just a physical activity, but also spiritual and mental. I love how it makes me feel – mind, body and soul.
What surprised you as you started to spend more time with your yoga practice?
In addition to my battle with anxiety, I struggle with obesity due to the removal of a brain tumor that damaged my pituitary when I was five. Returning to the mat this time for my mental sanity and not to comply with a fitness regime has provided me with a new appreciation for the practice. I recognize when a pose is easier to do. I allow myself to modify poses based on my ability and not feel frustrated by the fact I cannot yet do it like the person next to me is. And through this, I continue to return to classes, surprised by how much I actually enjoy yoga when I surrender to the process and not be beholden to an outcome of weight loss or physical fitness.   
What is your favorite pose?
I really enjoy pigeon and lizard – poses that open up my hips and provide a deep stretch are definitely favorites! I also have a newfound appreciation for shavasana and the space in which it allows me to be present with my body (rather than it being the one pose I felt like I could do right!).
Why have you chosen to practice at Samudra?
While participating in the Mantra, Movement and Meditation workshop, I noticed the sign above the studio door that reads, "It is easy to think we are just the wave and forget we are also the ocean." It struck me as powerful. I turned the phrase over in my head like one would turn a beach pebble over in one's hand. Then, when I read on the website that Samudra translates in Sanskrit as "ocean" or "a gathering together of waters," I instantly understood why the studio felt so welcoming right off the bat. Though I may be a Capricorn, an astrological sign identifying with the Earth element, my heart and soul is and always will be with the ocean. Before I heard the term, I knew this studio would become my home base for my yoga practice.   
What is your favorite non-yoga activity?
I love walking Miss Savvy, my Pembroke Welsh Corgi, and snuggling with her while reading a good book.
What is one other fun fact about you?
I recently accomplished one of my life goals in publishing my first book A Brief History of Biddeford!