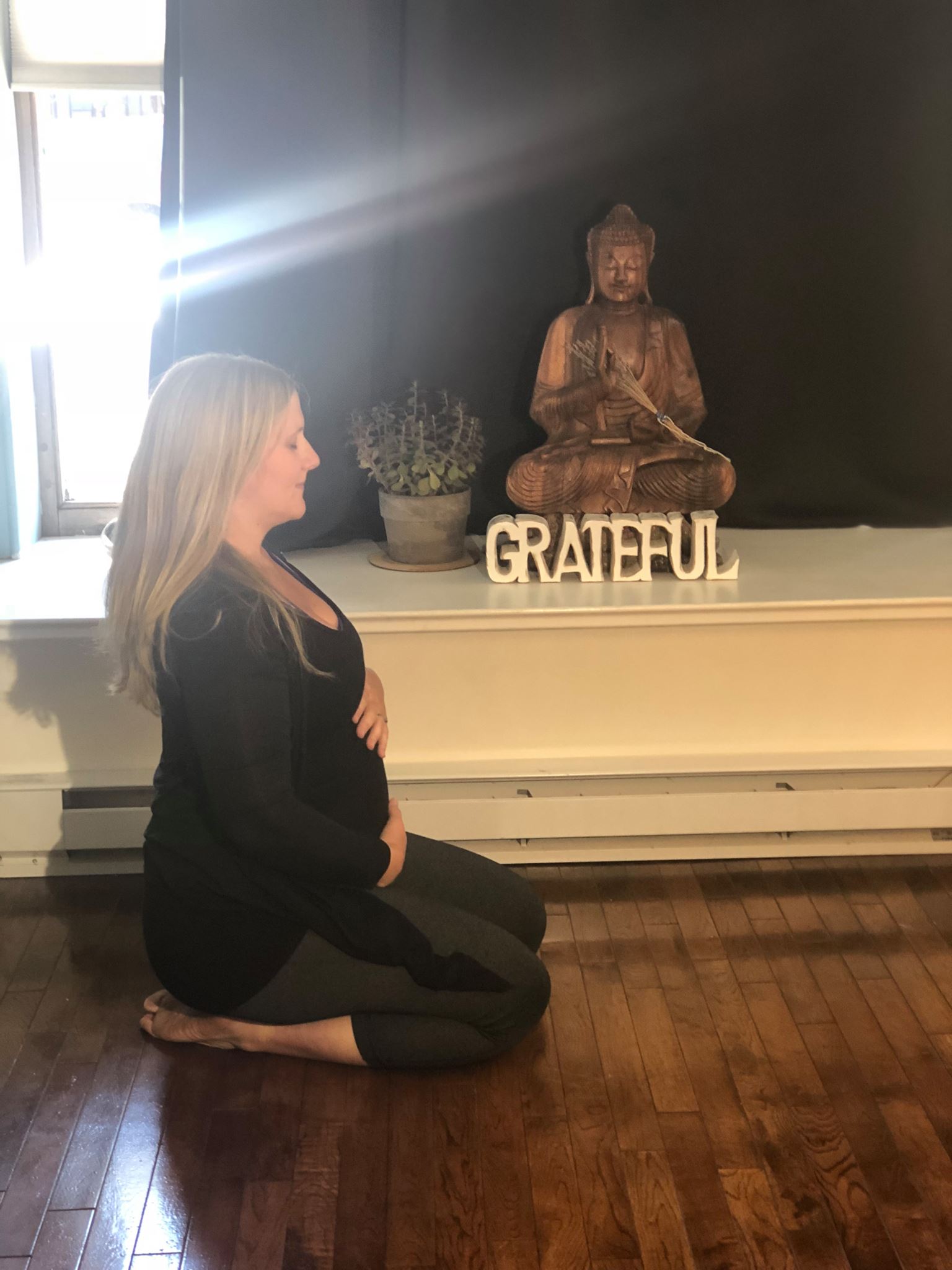 October Prenatal Series  – 4 Sundays: October 7, 14, 21, 28: 11:30am-12:45pm
A practice uniquely designed for pregnancy, Prenatal Yoga can help support moms-to-be emotionally and physically. With an emphasis on breathing, stamina, pelvic floor work, restorative poses, and core strength, Prenatal Yoga can help you become more resilient during and after pregnancy. All levels are welcome. Come connect with other parents to be.
This series runs for four weeks with Lindsay Payeur.
Investment: $50 for 4 weeks. Members can attend for discount pricing. Email us for details. Must sign up for the series to participate.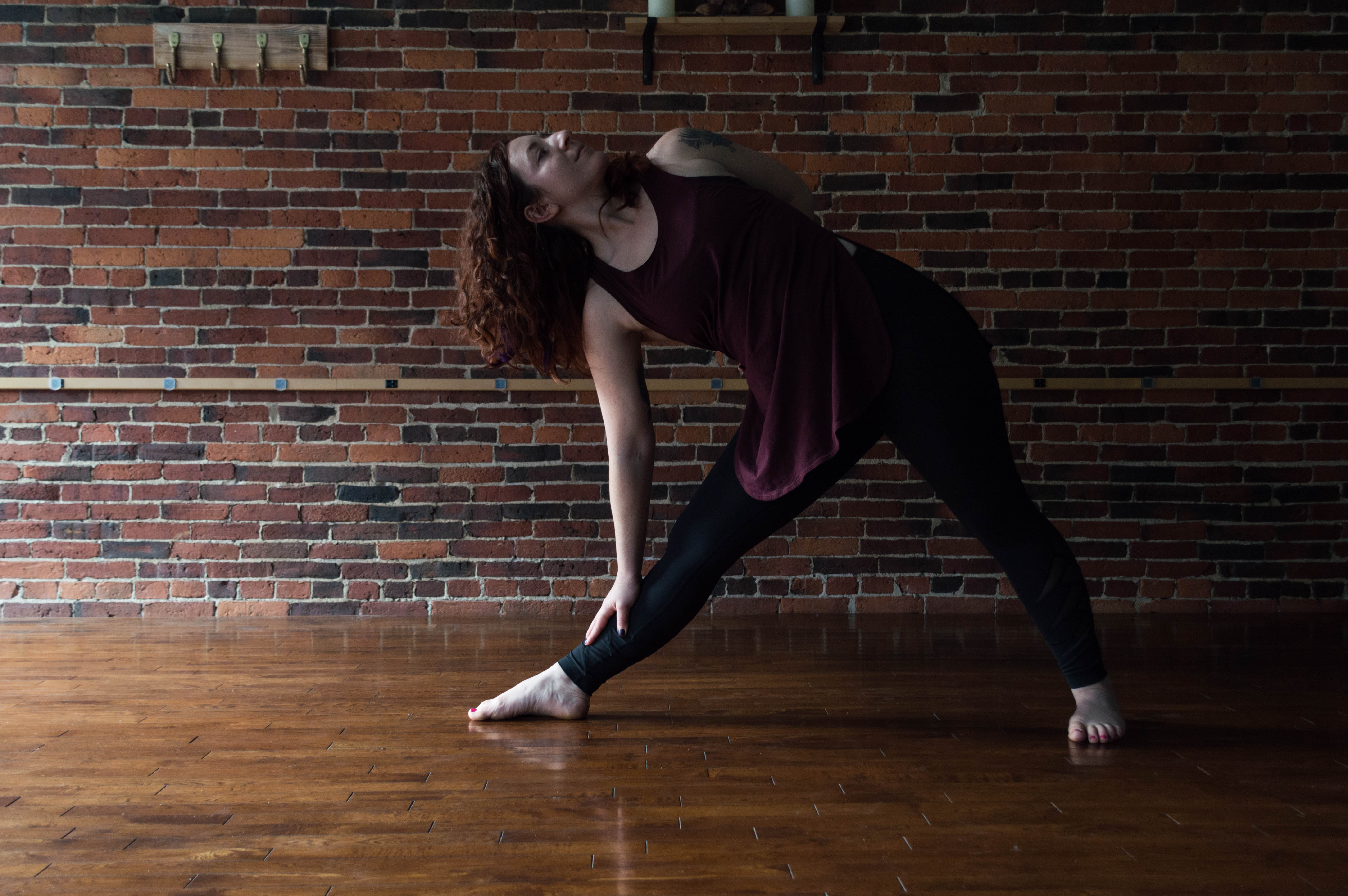 Teaching Transformational Classes: Saturday October 27th, 11-2pm with Sarah Spiegel
Are you a new or experienced teacher wanting to take your classes to the next level? Do you feel like you are looking for ways to bring more of your own authenticity into your classes and create transformation for your students, even in a one hour session? Do you sometimes feel that you use the same cues that you hear from many other teachers and you are looking for a way to freshen up your class or make it your own?
In this three hour workshop for yoga teachers with Sarah S, we will explore how to use your own personal voice, experience, self study, and passion to create classes that leave a lasting impression on your students.
We'll start with cuing – diving into how to use your own language and experience, and when to use more vs. less language, to get your students into and out of poses.
We'll move onto theming: What leaves a lasting impression on students goes far beyond how good a workout you gave them. Explore and practice ways to weave a theme into your class in a powerful and yet subtle way.
States of Relaxation – we'll explore how to start and end your class in a mindful way that leaves your students feeling blissed out.
Leave with new tools to infuse into your classes – new language authentic to you, meditations and guidance skill, and confidence and fresh takes on your own teaching.
Investment: $50
Workshop is limited to 10 participants.

Spooky Flow: Tuesday October 30th, 6-7pm with Sarah Lafortune
On Halloween, Sarah L will lead us through a vinyasa flow in the dark – set to some spooky and inspiring music to get us in the Halloween spirit.
A sensory class to candle light and breath. Fun adornments, halloween inspired clothing, and costumes encouraged! We'll provide the glow in the dark body paint.
We look forward to sharing energy with you! Class passes and memberships will be accepted for this class. $15 drop in.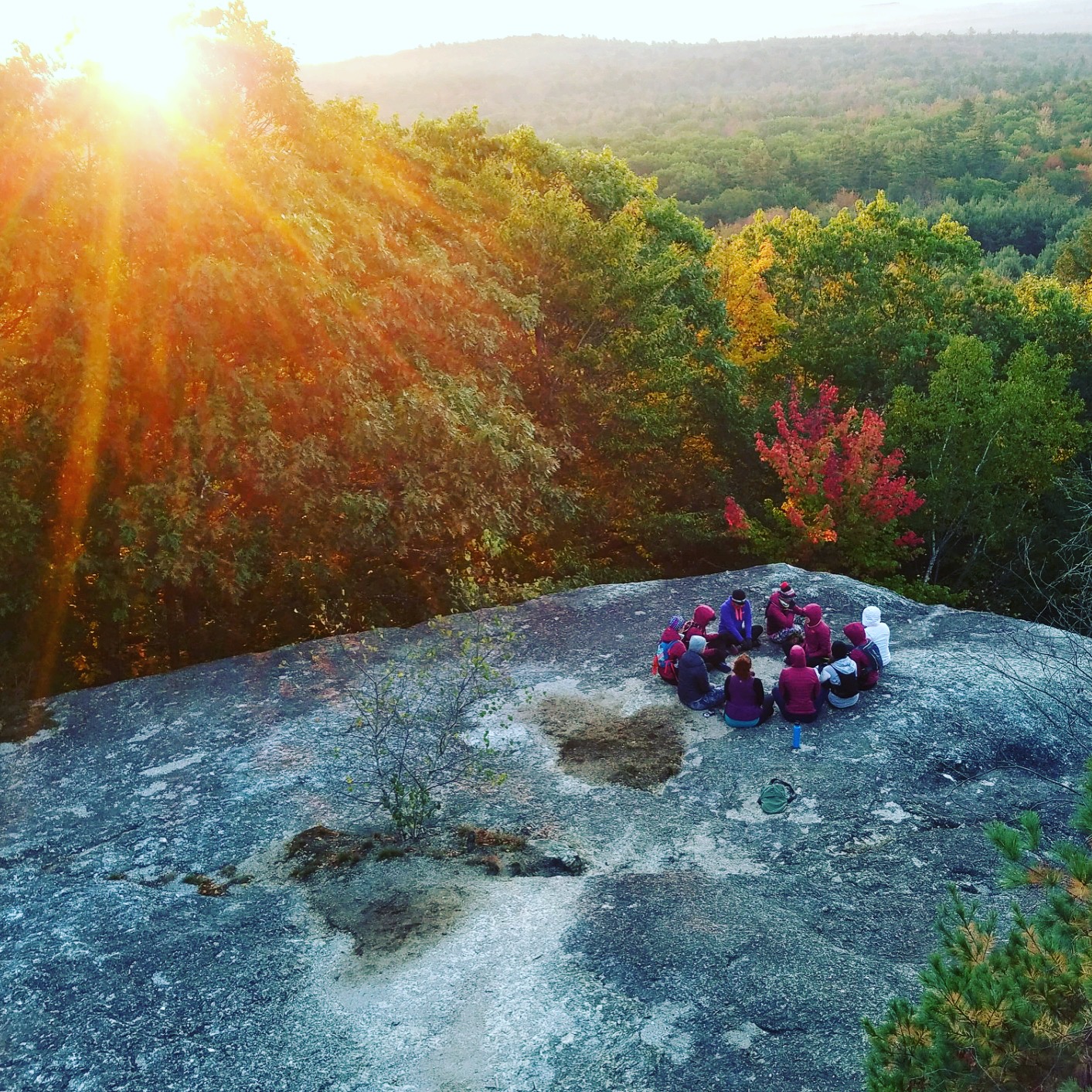 Fluid Mind and Spirit Intensive  – Thursday November 1-Sunday November 4th
In this Fluid Mind and Spirit Intensive students explore a central question: How can we let go of fear, craving and attachment in order to become happier and more content? The Fluid Mind approach begins with a foundational understanding of Tibetan Buddhist mind training, and continues to explore the science of meditation, the foundations of practice, and specific meditation practices (including shamata, maitri/lovingkindness, and tong-len).
Fluid Spirit explores the tools students need to better understand their own minds. Our exploration will include study of the Six Perfections (paramitas) as a gateway to a discussion of living an exemplary life filled with generosity, patience, diligence, morality, meditation and wisdom. Additional topics include the Buddha's discoveries under the Bodhi Tree, the Four Noble Truths, and foundational Tibetan Buddhist philosophies.
There are no pre-requisites for this intensive. This intensive can be taken independently as a meditation immersion, for continuing education credits or as part of the Fluid Yoga Teacher Training.
COST: $800
Reservation deposit of $240
60 CEU Credits can be applied to Fluid Yoga Teacher Training.
Fluid Mind and Spirit is a part of the Fluid Yoga® 200-hour Teacher Training. This module can be taken on its own for enrichment purposes and is open to yoga teachers and non-yoga teachers alike, or in conjunction with the remaining teacher training weekends of Fluid Body Alignment Training, and four teacher training weekends. (January-Aprl 2018.)
This course can also be divided into two modules: Fluid Mind, November 1st and 2nd, and Fluid Spirit, November 3rd and 4th. Contact us for details.

Discourse on the 6 Paramitas with Lama Migmar Tseten  – Saturday November 3, 1-4pm
We are honored to once again welcome Lama Migmar Tseten, a Tibetan monk, the Buddhist Chaplain at Harvard University and former head of the Sakya Center in India, for teachings and discourse on the 6 Paramitas.
Limited space available. This event is open to the public. Please bring with a meditation cushion or something comfortable to sit on. Please note: we do not have chairs in studio; if you are not comfortable sitting on the floor, please bring with a folding chair.
$10 deposit saves your space, plus donation to the Sakya Center day of via cash or check.
About Lama Migmar:
Lama Migmar has been serving Harvard-wide student, faculties, and staff as a Buddhist Chaplain since 1997. He received both a traditional and a contemporary education in India. He graduated with an Acharya degree in 1979 from Tibetan Institute of Sanskrit University, Varanasi, India, and with first position every nine years among four schools of Tibetan Buddhism. He was awarded a medal for academic excellence by His Holiness The Dalai Lama. He was also recognized as Khenpo for his scholarship and service to the Dharma by His Holiness the Sakya Trizin.
Lama Migmar served as the head of Sakya Center in Rajpur, India, and the Sakya Monastery in Puruwalla, India, from 1981 to 1989, taking care of the well being of several hundred monastic residents. During this time he reintroduced the original form of the geshe educational system of Tibet, with degrees from kazhipa up to the rabjampa degree, with a curriculum that included all of the eighteen major texts, which are known as the Dragchen Chogyed.
Lama Migmar has supervised the editing and publication of over 50 rare volumes of Sakya literature including the 31 volumes of Sakya Lamdre and the rare Golden Manuscripts of the Five Founding Masters of Sakya. He founded Sakya Institute for Buddhist Studies in Cambridge, MA in 1990. Lama Migmar has also authored and published many books covering various subjects from Hinayana, Mahayana, and Vajrayana traditions, including, "Awakening to the Noble Truth", "Awakening to the Noble Truth Curriculum", "Wisdom Gone Beyond", "Wisdom Gone Beyond Curriculum", "The Play of Mahamudra", "The Tibetan Book of Awakening", "Treasures of the Sakya Lineage", "Visions", "Arya Tara Practice Manual", and "Yoga, Mindfulness & Mantra for Peaceful Living and Dying". More information about Lama Migmar's publications can be found at Mangalamkosha Publications. Lama Migmar has also established Mangalam Studio in 2013 to share spiritual arts, teachings, and practices via podcasts, videos, practice texts, and other types media to the public for free. In 2017, Lama Migmar established Mangalam Online Course to provide systematic Dharma studies and practices available around the globe. He has been leading many retreats at Buddhist centers throughout North America and Europe. He is one of the lead faculties at Kripalu in Berkshire, MA. Lama Migmar is also a visiting teacher at Sivananda Ashram Yoga Retreat Bahamas and The Art of Living Retreat Center.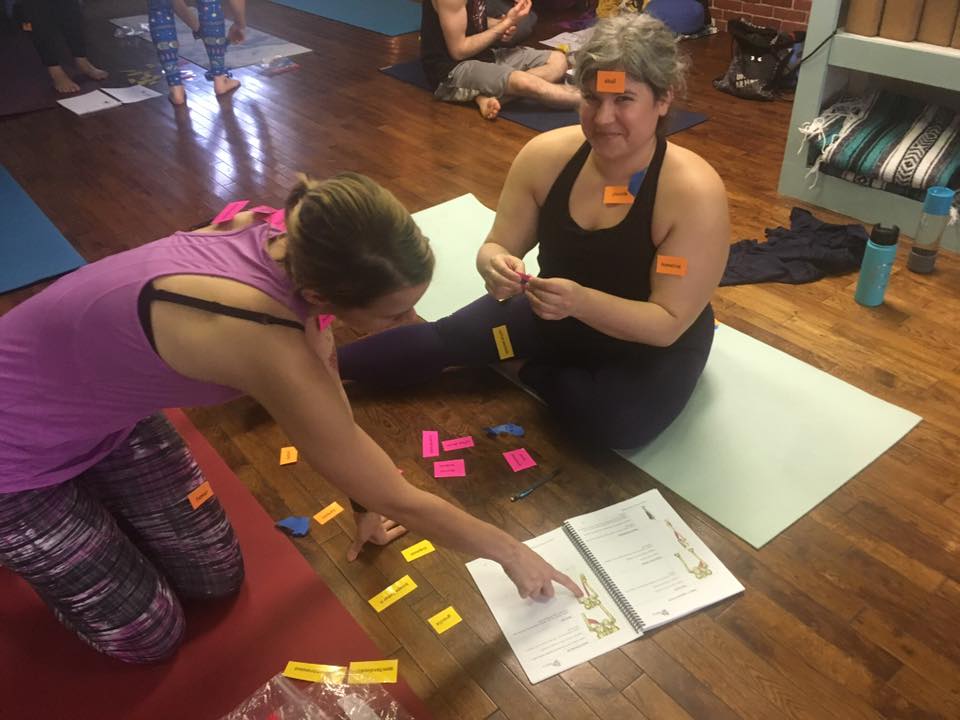 Fluid Body – An Anatomy and Alignment Intensive – December 7th-9th
The Fluid Yoga approach to asana encourages freedom and exploration within the framework of alignment-based cuing and sequencing.
For the Fluid Body Alignment Intensive, the result is a practice that is efficient and expansive; students new to yoga or those with years of experience will find equal room for growth and discovery. The Fluid Body Alignment Intensive introduces the dynamic rhythm of vinyasa while providing easy methods for understanding safe alignment.
Attendants learn to listen to their inner wisdom to make moment-to-moment adjustments without disrupting the fluidity of practice.
There are no pre-requisites for this intensive. This intensive can be taken independently as an immersion, continuing education credits or as part of the Fluid Yoga Teacher Training.
COST: $400
Reservation deposit: $120
30 CEU Credits can be applied to Fluid Yoga Teacher Training.
Fluid Body is a part of the Fluid Yoga® 200-hour Teacher Training. This module can be taken on its own for enrichment purposes and is open to yoga teachers and non-yoga teachers alike, or in conjunction with the remaining teacher training weekends of FluidMind an Spirit, and four teacher training weekends. (January-Aprl 2018.)