Thanksgiving Donation Class To Beneft JFS Diaper Bank – Thanksgiving Day, 9am
GIVE BACK. PRACTICE. GET MOVING.
This Thanksgiving, Ayla leads a mindful heat-building flow to benefit the Michael Klahr Jewish Family Services Diaper Bank. Please bring either cash/check donation or a package of diapers (bags of opened diapers are fine as well if you have little ones and extra sizes left over!) to donate to those in need.
Most requested diaper sizes are size 4, 5, and 6.
We will continue to accept diaper donations at the studio between Thanksgiving and the winter holidays!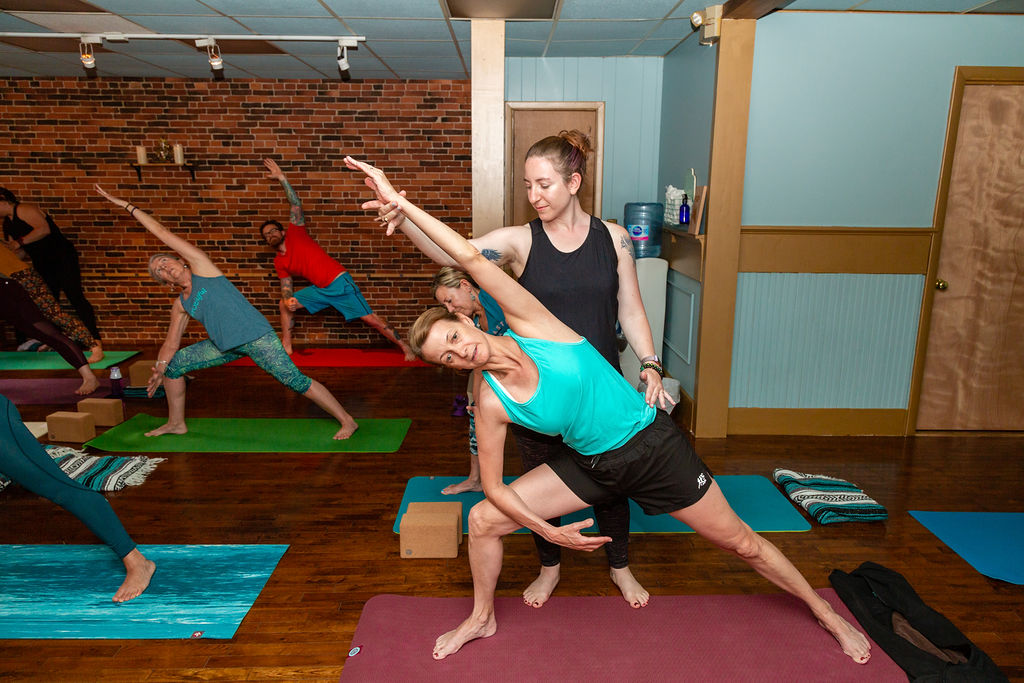 Fluid Body – A Personal Alignment and Asana Immersion Weekend – Friday December 6-Sunday December 8
The Fluid Yoga approach to asana encourages freedom and exploration within the framework of alignment-based cuing and sequencing.
For the Fluid Body Alignment Intensive, the result is a practice that is efficient and expansive; students new to yoga or those with years of experience will find equal room for growth and discovery. The Fluid Body Alignment Intensive introduces the dynamic rhythm of vinyasa while providing easy methods for understanding safe alignment.
Attendants learn to listen to their inner wisdom to make moment-to-moment adjustments without disrupting the fluidity of practice.
There are no pre-requisites for this intensive. This intensive can be taken independently as an immersion, for continuing education credits or as part of the Fluid Yoga Teacher Training.
If you'd like to join us from out of town we can help you find local accomodation in the beautiful Southern Maine area.
COST: $400
Reservation deposit: $120
30 CEU Credits can be applied to Fluid Yoga Teacher Training.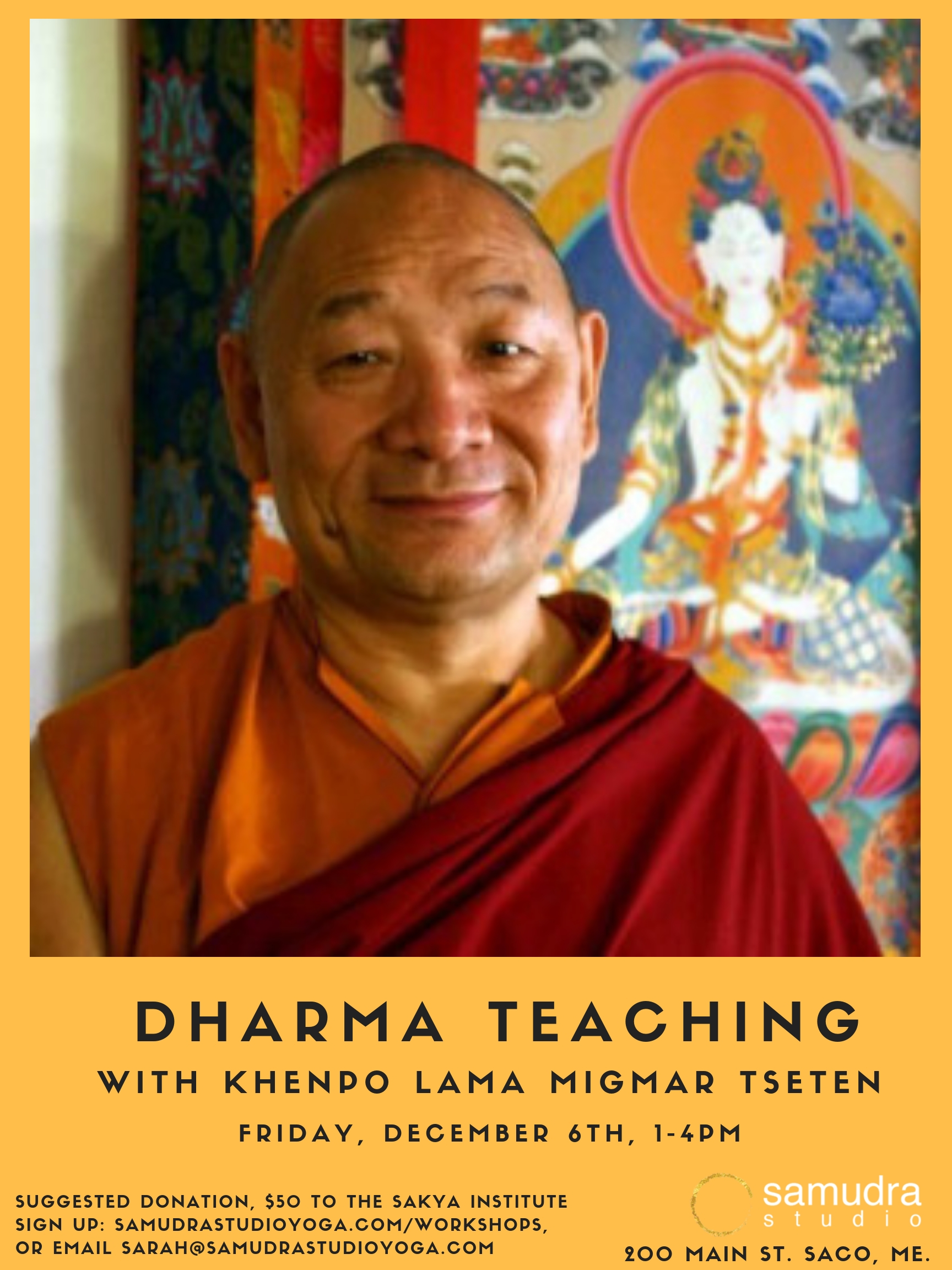 Dharma Teaching with Khenpo Lama Migmar – Friday December 6, 1-4pm
Khenpo Lama Migmar, a Tibetan monk and head of the Sakya Institute in Cambridge will offer discourse on the Tibetan Book of The Awakening. 
A donation to the Sakya Institute of $50 is suggested for this extraordinary teaching. Cash or Check written to "The Sakya Institute" will be accepted or visit Sakya.net to donate.
The teaching will start at 1:00pm, and run approximately until 4:30pm.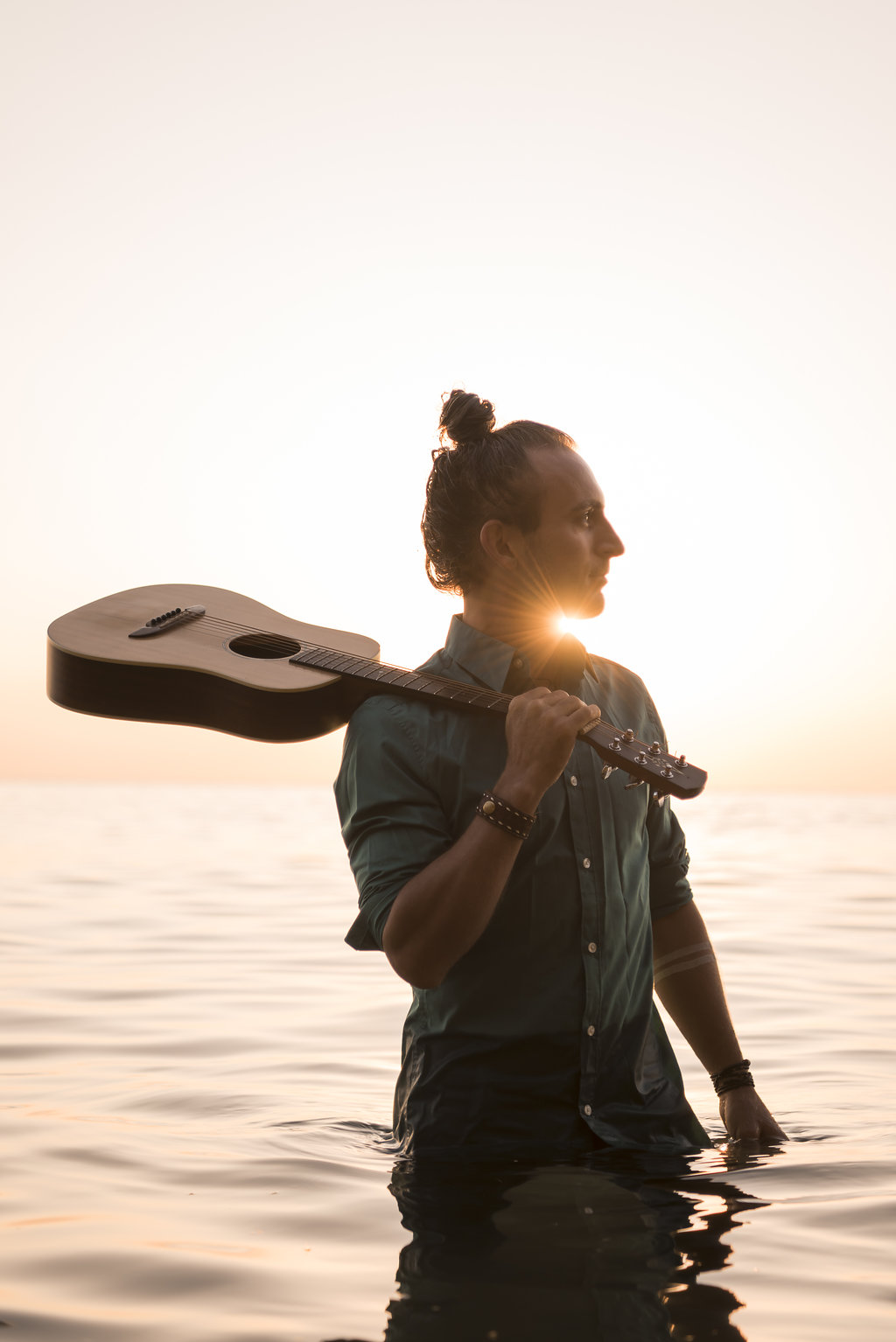 Live Concert Vinyasa Class with Kevin Paris – Friday December 13, 6-7:30pm
 your season with energy. This all levels flow will be taught in a warm room to the beautiful tunes of Kevan. We'll build some heat as you drop into the flow of the music and leave plenty of time for delicious stretching and a music filled savasana.
About Kevin Paris:
LA based singer-songwriter, hug dealer & yoga musician, Kevin tours the world performing his infectious, feel-good music. A pioneer in the realm of Yoga & Live Music, he has played for over 1,000 yoga classes with renowned yoga teachers at venues like Wanderlust Festival, Yoga Journal LIVE, GaiamTV, YogaGlo, and studios around the globe. More at www.kevinparismusic.com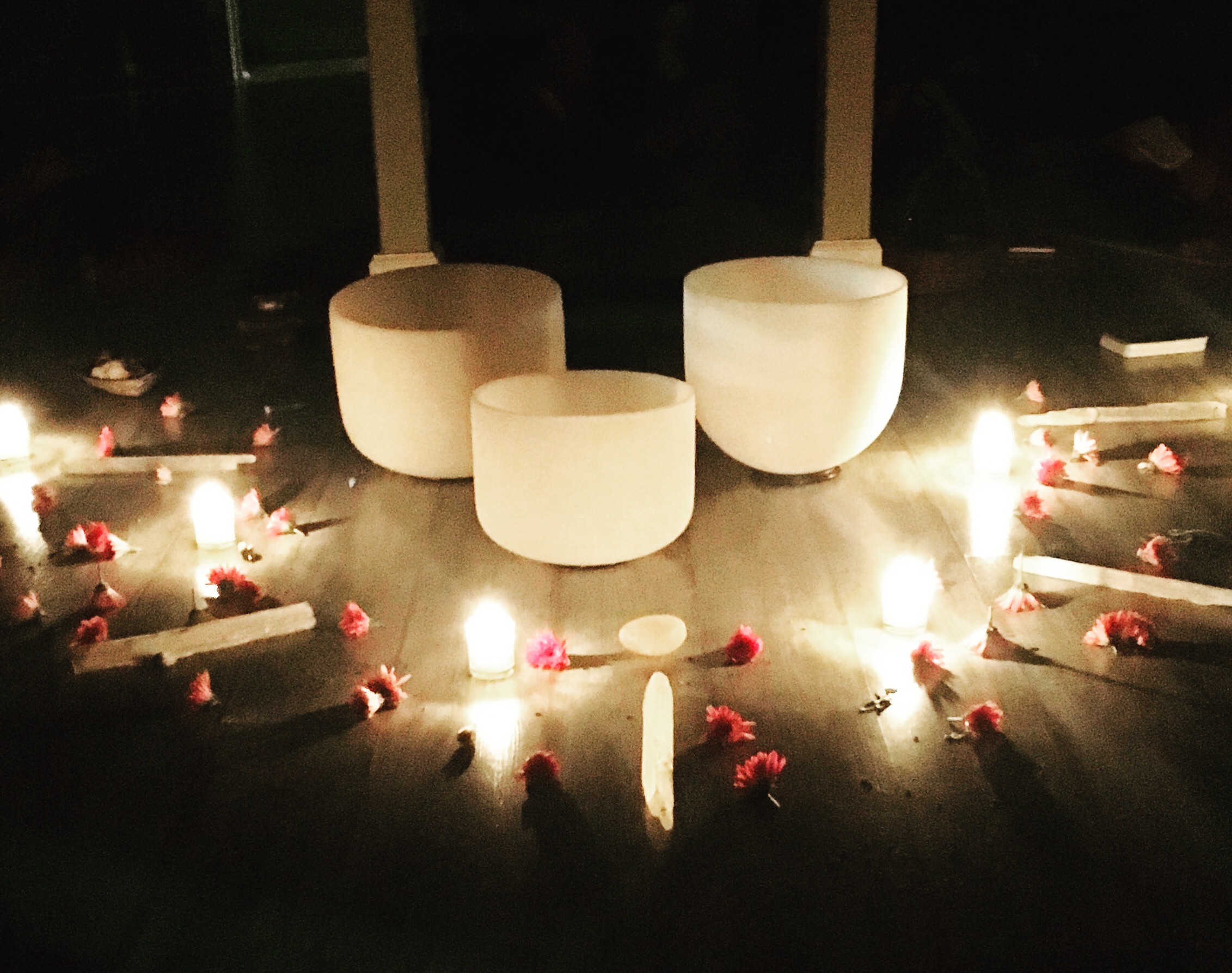 The Inward Spiral: Winter Solstice Sound Alignment, Saturday December 21, 6-8pm
The Inward Spiral; Winter Solstice Sound Alignment with crystal clearing
Join together in ritual and ceremony, honoring the darkness of the season and all that it shelters within us.
When darkness has engulfed us and the earth has frozen, when our bodies rhythms slow to keep time with the slowing rhythm of the earth, when the energy of both bodies, your own and that of the earth begin spiraling inward, the most productive moments we can offer ourselves are moments of rest.
So join us in rest, on this darkest day of the year. Offer yourself the stillness the darkness demands and your body beseeches.
We will join together in a deeply nourishing restorative practice, followed by a yoga nidra guided by the healing vibrations of the crystal bowls.
Come. Honor the darkness that lives within and dwells without. The darkness that nourishes the light. Allow yourself to sink completely into it, implore it to reveal it's secrets, offer gratitude for its wisdom and welcome the growing light that follows.
This event will meet at our Saco location.
Investment: $35, $30 for members (Members email to sign up.)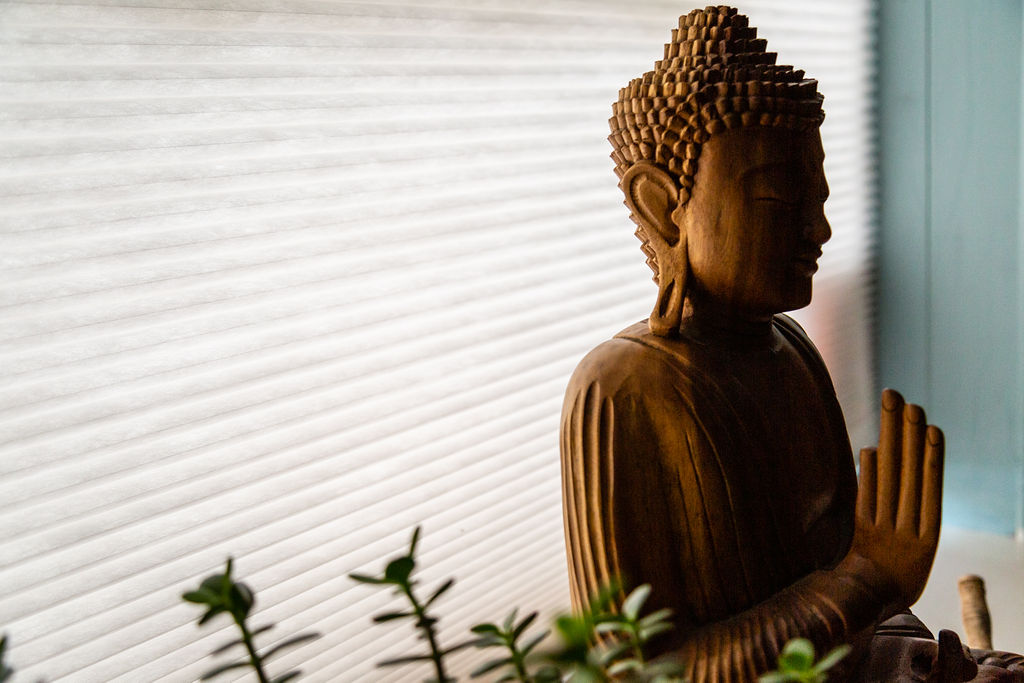 The Apprenticeship with Jacqui Bonwell – One Tuesday a Month January-June. 6:30-9:30pm
Join us for a very special 6 session apprenticeship with Jacqui Bonwell. Each month we'll explore a different topic with a small group of dedicated yoga teachers (or serious students!) looking to take teaching and practice to the next level.
____________________________________________________
The Apprenticeship Session 1~
The Anatomy, Alignment & Injury Refresher for Yoga Teachers/Serious Yoga Students
It's important to know all the parts of the car, but way more important to be able to drive it. Learn how to drive, not just name parts of the car, as well as what a good mechanic can offer in your Yoga classes.
~The Apprenticeship Session 2~
Mental Alignment (Neuroscience) & How to Teach Effective Meditation
Equip yourself with knowledge of the brain and how to effectively teach meditation. Techniques, good verbal strategies and concrete plans to guide someone (especially yourself) through a powerful mental journey that truly echos through their nervous system! Reviewing the works of one Dr. Rick Hansen and several others who chime in on the practice, hindrances and great benefits of meditation.
~The Apprenticeship Session 3~
Emotional & Energetic Alignment and Sequencing
Learn to sequence your classes to be of utmost healing value. Learn the magnitude of exactly what you are going through and the high vibration exchange that happens every time you roll out your mat. Take an exploration through the 8 threads of the Sacred Seeds Yoga Flow (developed by Jacqui) and how to bring emotional and energetic wisdom into class without sounding like a therapist or coming off too clinical.
~The Apprenticeship Session Four~
How To Be A Profound Teacher: The Secrets to Theming, Delivery & Authentic Teaching
You can have all of the knowledge in the world, but if your delivery falls flat it won't land. Learn effective ways to be a profound teacher by knowing the placement and delivery of verbal cues geared towards your MOST authentic teachings. Deep exploration of the teachings of your life and concrete, pen to paper, things you can bring into your class to give it a bit more OOMPH!
~The Apprenticeship Session Five~
The Teachings: An Evening Dedicated to the Yoga Sutras
Take the mystique out of the Yoga Sutras. Learn how to thread them through life and class. Take these 195 Yoga Sutras (some say 196) of Patanjali (one person? A group of people?) And learn how to infuse tradition into your classes. Chanting, pranayama and other techniques directly from the Sutras will be reviewed.
~The Apprenticeship Session Six~
Mission, Business & Building your Internal & External Ompire
How to up the ante with your teaching, your career and how to be way more sophisticated with your time. Learn from one of the strongest entrepreneur's in this field and settle yourself much steadier into who you want to be and what kind of experience you want to have while you're at it. Manifestation, concrete business plans as well as workshop, retreat, series development & marketing strategies will be addressed. Strengthen your mission, your echo, your impact.
__________________________________________________
INVESTMENT:
$500 for all 6 sessions or $108 drop in for each session. Only those who take the full apprenticeship will receive a certificate of completion.
$150 deposit saves your space in the full program using the link below. Drop ins available dependent upon space. Please contact us for more details.
DATES: Jan 28th, Feb 25th, Mar 31st, Apr 28th, May 26th, June 23rd, 6:30-9:30pm in Saco, ME.
This apprenticeship is limited to a small group. We suggest registering early if you're interested!