Kids Yoga Series – Ages 3-6. Mondays in August 3:30-4:30pm. $40 for Series
Yoga is known for developing movement and body awareness, the mind, and imagination. Introduce your child to the benefits of yoga in this fun one hour class series with Abby Brennan. Classes will get kids moving using poses, songs, games, and story telling.
In this four week series, children's ages 3-6 will sing and play their way to a better understanding of their growing bodies. Practicing yoga at this age will help not only gross motor skills, but also help children to find ways to decrease frustration responses, teach them self-responsibility, and enhance concentration through breath. This series will also provide an opportunity for social development, encouraging peer- and self-esteem. *In order to encourage their growing sense of self, we ask that caregivers and parents do not attend.
Class will be tailored to fit the needs of the group that signs up.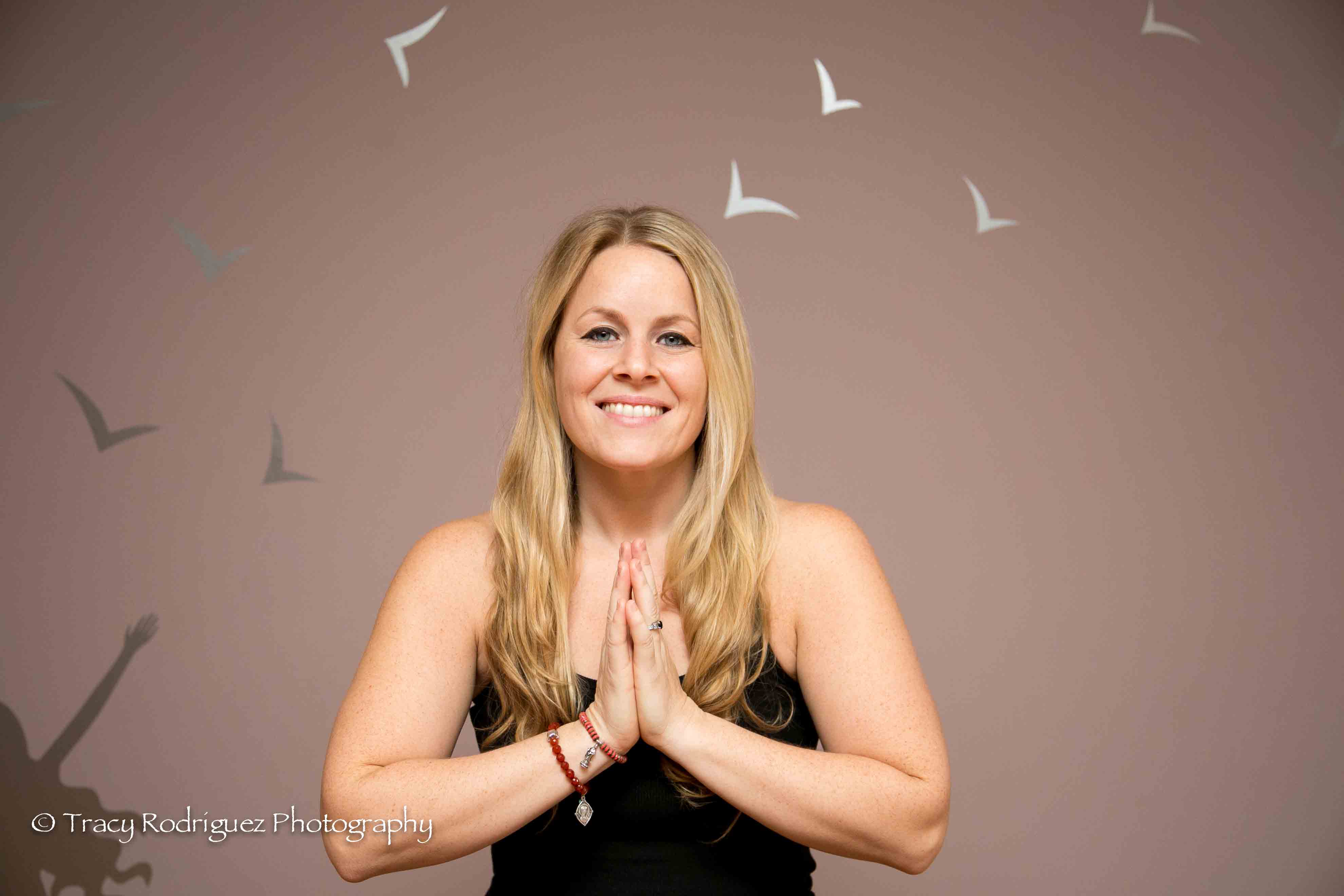 Warriors & Yinjas with Jacqui Bonwell – Sunday, September 17th 1-3pm: $35 
Join Jacqui for this profound experience based on the teachings of Tibetan Warriorship in Vinyasa, Yin & Meditation format. Be part of an experience that is sure to make a genuine imprint on your body & brain through the practice of great movement, stillness & awakening. Let this class help you hit the reset button for the things that fuel your fire & your ability to balance that with recognizing basic goodness & resources again. The key to Warriorship & Yinja mentality is to live a life of sacred appreciation in as many moments as possible. That is one of the healthiest things you can do to strengthen your life force and remain strong for the rest of your breaths. You have been with Jacqui for the past ten years in the Chakra Cleanse to arrange your emotional alignment. This class will be focused on your mental alignment & how you can remain organized, steady and even JOYFUL in all situations. How you can navigate difficulty with warrior intelligence and instant ninja-like perspective.  And when it all falls apart, Warriorship helps you see the beauty of that too. Learn the keys, the asanas, the mental/physical formations & arrangements to command your world. Jacqui teaches a weeklong retreat every Fall at Kripalu with the same title.  This workshop was born from wanting to share some of the highlights for those who can't always make it!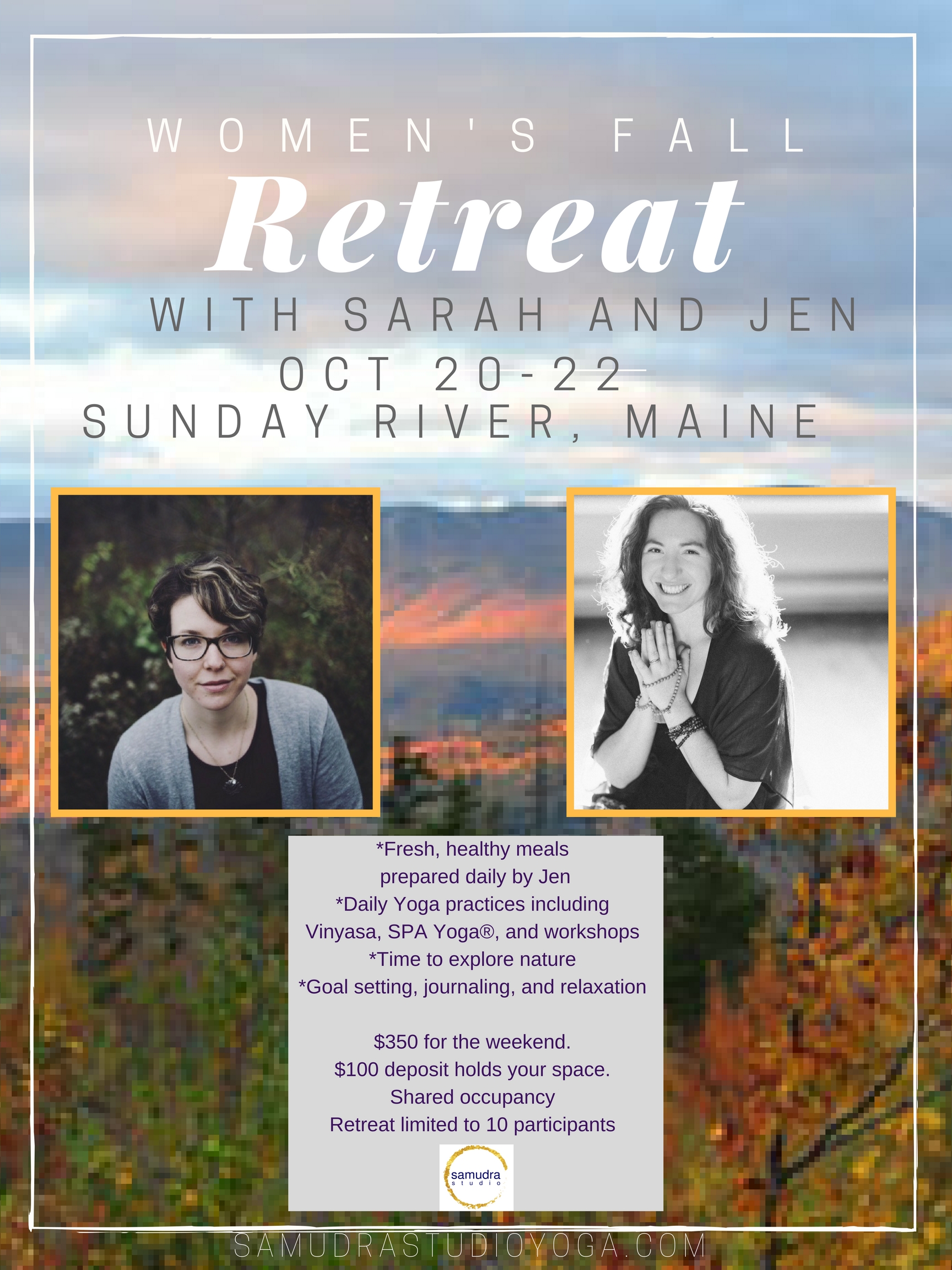 Women's Autumn Foliage Retreat at Sunday River with Sarah and Jen- Friday October 20-Sunday October 22nd; $350
Hit the reset button and create some time and space for yourself in this beautiful mountain retreat home. Weekend includes fresh, healthy meals prepared daily by Jen, daily yoga and meditation practices including Flow Class, Workshop style classes, and SPA Yoga® and yoga nidra. We will leave space in the day for your personal exploration of nature, journalling, and goal-setting, as well as time to hang in the hot tub under the stars.
$350 for the weekend and a shared occupancy room.  Includes dinner Friday night, and brunch and dinner Saturday, brunch on Sunday. Retreat is limited to 10 participants. Your $100 deposit secures your spot. Deposits are non-refundable.
About Jen: Jen found her passion for yoga through the back door. With a background in tae kwon do and meditation, she began her journey five years ago with Hatha yoga and expanded her way into power vinyasa. She received her 200 hour Live Love Teach certification in winter 2014. In addition, she has trained with Betty Riaz for her SPA certification. In her practice, she creates a restorative yet strong and ever evolving flow. She is continuously learning as a teacher and on her mat as a student. She also has a passion for locally sourced foods from her lengthy career with Whole Foods Market. Beyond teaching, she has numerous experiences providing home cooked meals for Stil Studio's annual yoga retreats for up to twenty-five guests. When she's not on her mat you can find her in the kitchen whipping up delicious goods or outside traveling this beautiful world with her significant other and dog, Autumn.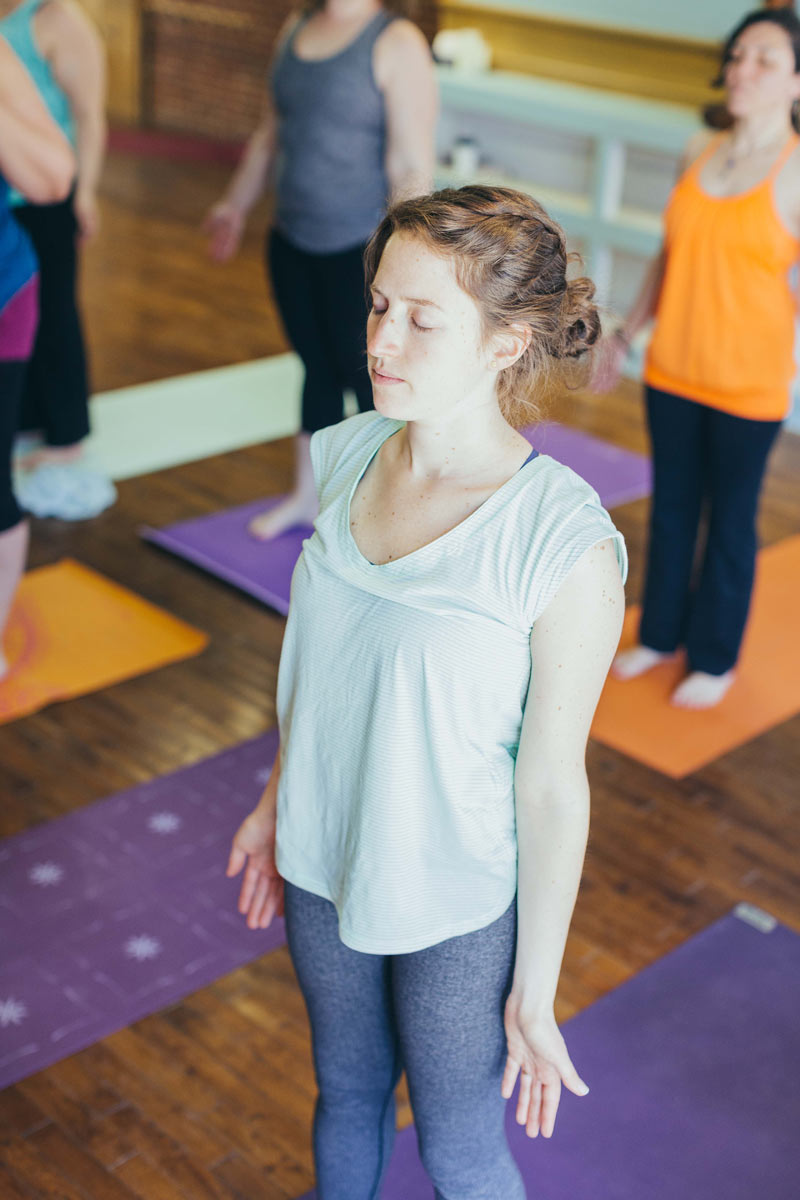 Fluid Yoga: Mind and Spirit: Thursday November 9-Sunday November 12 with Kevan Gale
In this Fluid Mind and Spirit Intensive students explore a central question: How can we let go of fear, craving and attachment in order to become happier and more content? The Fluid Mind approach begins with a foundational understanding of Tibetan Buddhist mind training, and continues to explore the science of meditation, the foundations of practice, and specific meditation practices (including shamata, maitri/lovingkindness, and tong-len).
The Fluid Spirit explores the tools students need to better understand their own minds. Our exploration will include study of the Six Perfections (paramitas) as a gateway to a discussion of living an exemplary life filled with generosity, patience, diligence, morality, meditation and wisdom. Additional topics include the Buddha's discoveries under the Bodhi Tree, the Four Noble Truths, and foundational Tibetan Buddhist philosophies.
There are no pre-requisites for this intensive. This intensive can be taken independently as a meditation immersion, continuing education credits or as part of the Fluid Yoga Teacher Training.
COST: $800
Reservation deposit of $240
60 CEU Credits can be applied to Fluid Yoga Teacher Training.
Fluid Mind and Spirit is a part of the Fluid Yoga® 200-hour Teacher Training. This module can be taken on its own for enrichment purposes and is open to yoga teachers and non-yoga teachers alike,  or in conjunction with the remaining teacher training weekends of Fluid Body Alignment Training, and two Teacher Training weekends (dates TBD and happening in 2018.)