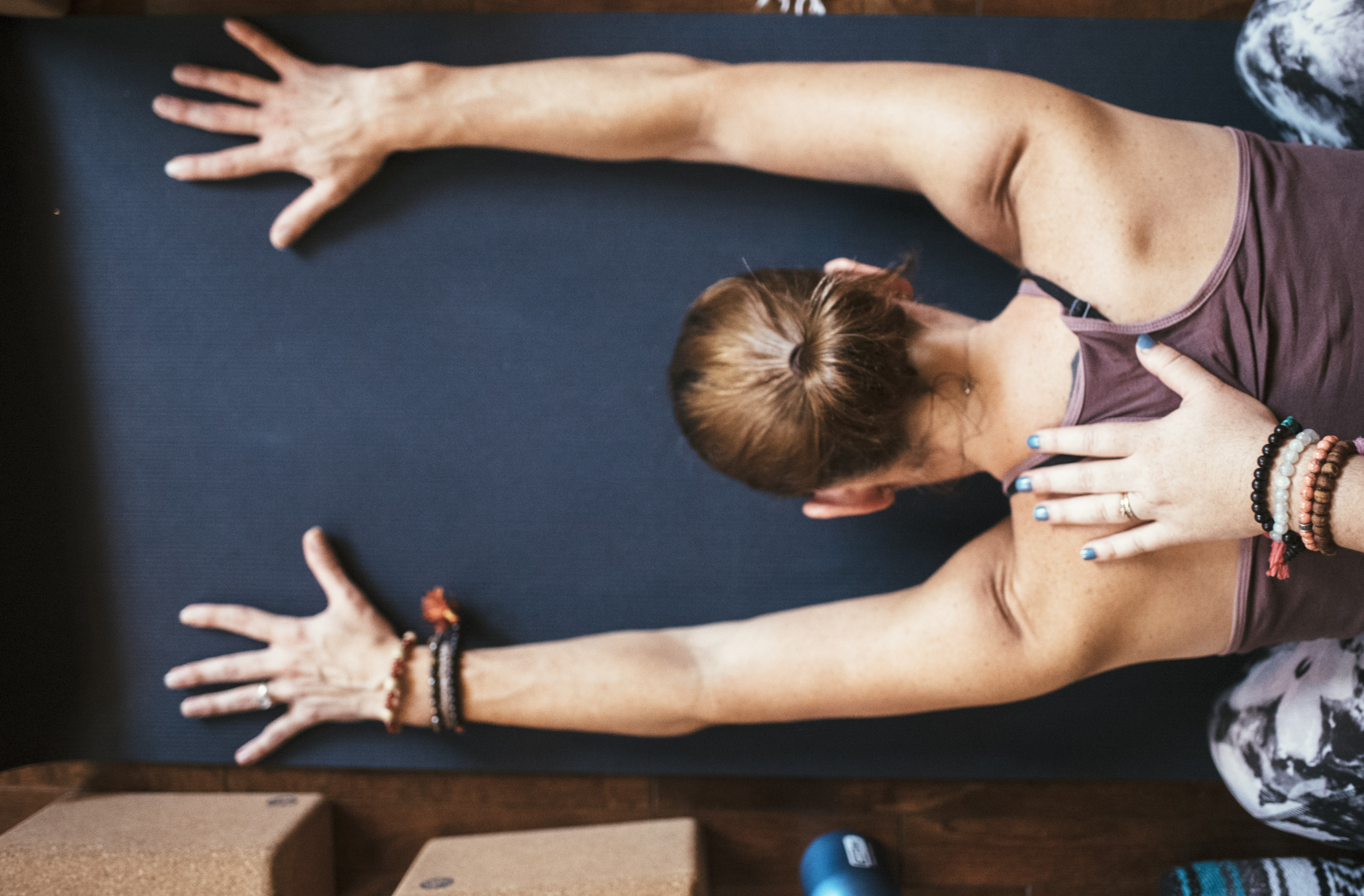 SPA Yoga® Teacher Training Weekend: Friday September 21- Sunday September 23rd, 2018
This weekend SPA Yoga® Level 1 training has been developed for 200-hour certified yoga teachers who would like to learn to teach a restorative flow.
We break down the weekend of SPA with the following points:
CREATE THE SPACE – Learning how to create a restorative environment and good energy space in which you are teaching.
CREATE THE PRACTICE – Learning the tools of applying a physical restorative flow practice as well as a meditative experience for the practitioner.
CREATE THE AMBIANCE – Discovering all the five senses of your body and mind to make a SPA-like ambiance.
How do we learn to teach a class that touches upon the elements of touch, taste, sight, sounds, and smells? Over the course of the weekend, we will uncover:
The basics of teaching a restorative SPA sequence class
How to capture all five senses while teaching a SPA class
Understanding the art of touch and massage trigger points
Basic hands on assists for a restorative class
Building your own sequence for a SPA class
Much more about teaching a restorative flow class
By becoming an observer of your inner world you will be able to teach this unique style of yoga to your students. It will make them feel like they just walked out of a SPA!
This weekend is designed for ALL 200-hr RYT teachers or anyone currently enrolled in a yoga teacher training program.
Hours:
Friday 9/21 – 4 pm to 8 pm
Saturday 9/22 -10.30 pm to 6 pm
Sunday, 9/23 –  9 am to 4pm
Investment: $425; $120 deposit holds your spot.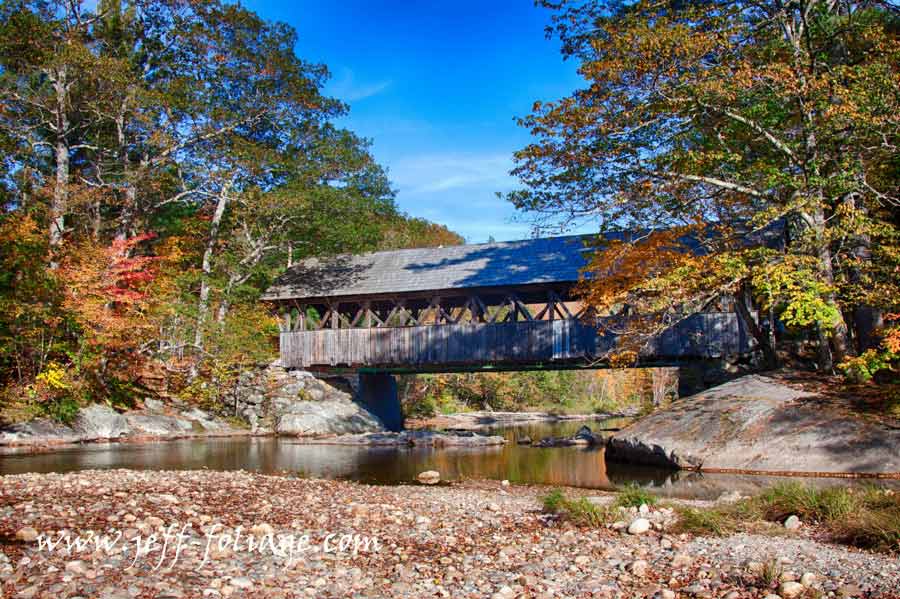 Annual Women's Autumn Retreat: Friday October 12th- Sunday October 14th, 2018 – SOLD OUT
Save the date! We've got our annual women's retreat on the calendar and some magical recharging and transformation planned!
Hit the reset button and create some time and space for yourself in this beautiful mountain retreat home.
Weekend includes fresh, healthy meals prepared daily by yogi chef Jen, daily yoga and meditation practices including Flow Class, Workshop style classes, and SPA Yoga® and yoga nidra. We will leave space in the day for your personal exploration of nature, journaling, and goal-setting, as well as time to hang in the hot tub under the stars.
$425 for the weekend (early bird pricing; register by June 1 for this rate) and a shared occupancy room. Includes dinner Friday night, brunch and dinner Saturday, and brunch on Sunday. Retreat is limited to 10 participants. Your $100 deposit secures your spot. Deposits are non-refundable.
**************************************************************************
About Jen: Jen found her passion for yoga through the back door. With a background in tae kwon do and meditation, she began her journey five years ago with Hatha yoga and expanded her way into power vinyasa. She received her 200 hour Live Love Teach certification in winter 2014. In addition, she has trained with Betty Riaz for her SPA certification. In her practice, she creates a restorative yet strong and ever evolving flow. She is continuously learning as a teacher and on her mat as a student. She also has a passion for locally sourced foods from her lengthy career with Whole Foods Market. Beyond teaching, she has numerous experiences providing home cooked meals for Stil Studio's annual yoga retreats for up to twenty-five guests. When she's not on her mat you can find her in the kitchen whipping up delicious goods or outside traveling this beautiful world with her significant other and dog, Autumn.
About Sarah: Sarah has had a long time love of building and supporting community and enjoys creating connection and transformation for individuals and groups through classes, workshops, transformational retreats, and trainings. She is the founder and owner of Samudra Studio, a community-based yoga and meditation studio in Saco, Maine. Sarah's classes leave the body feeling open, and encourage mindfulness both on and off the mat through breath and body awareness. Sarah particularly loves the process of guiding students on an inner journey and into deep states of relaxation.
Sarah completed her 200 and 500 teacher training with Fluid Yoga and Kevan Gale and Betty Riaz. She is a certified SPA Yoga teacher and assists SPA Yoga founder Betty Riaz with trainings both regionally and internationally. She has also studied and holds certifications in Restorative Yoga, Thai Yoga Massage, and Yin Yoga and Meditation.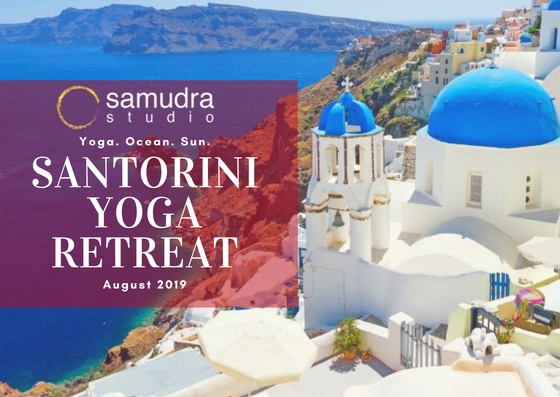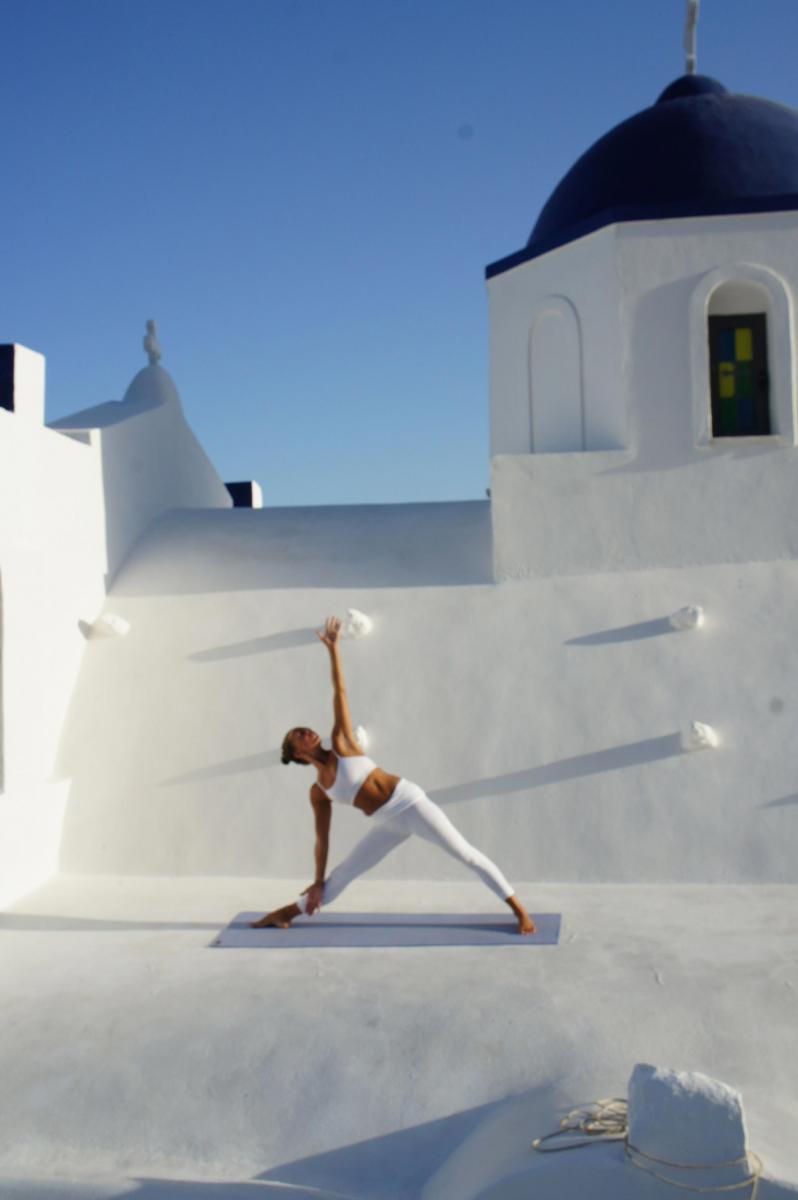 Yoga. Ocean. Sun. Santorini Greece Retreat: Saturday August 10-Saturday August 17, 2019 – Filling!
Crescent-shaped Santorini is considered the precious gem of the Aegean. Escape to this mythical, magical island oasis with its world famous sunsets, white washed cliff top villages against the background of brilliant sky and crystal clear blue oceans, black sand beaches, and volcanic cliffs.
Get away for 7 days and 6 nights in this magical oasis. Daily yoga and meditation practice, fresh, organic locally prepared meals, surrounded by ocean: Santorini is the perfect blend of relaxing escape and jumping off point for adventure. Explore Volcanic hot springs, watch world famous sunsets from the Caldera cliffs and sun yourself by the pool or one of the beautiful black sand beaches close by.  
About our venue: Your retreat home base of Oia is located high up on what is considered the balcony of Santorini. Oia is known for its amazing views of the volcano. Just two kilometers from the beach with inspiring walks and views all around, Oia is the perfect spot for relaxation, meditation, and taking in the natural beauty of our stunning location. 
'We strongly support the idea of organic nutrition, that's why we offer our customers a wide range of Greek, traditional dishes using as many ingredients as we can from our own produce, such as cherry tomatoes, white aubergines, local cucumbers (katsounia), round zucchinis, string beans (ampelofasoula), grapes, figs, melons and watermelons. Take a stroll into our vegetable garden and get acquainted with the renowned, dry varieties which grow on the island and taste the fruit of our fig trees which surround your bungalows.'-Antonis, your host in Oia
Massages can be booked for you to take place at the retreat centre. Please contact us for more information.
What's Included:
Seven nights accommodation

Daily yoga and meditation practices
Daily Breakfast
Six nights of organic dinners (we will go out one night in the village)
Yoga mats and all necessary props provided
Hot springs excursion and guided cliff walk and options for island exploration
Daily breakfasts will be served after the morning session. Healthy organic evening meals are included and are grown from the retreat centre's garden.  Lunch is available for an additional cost at the retreat centre restaurant, or you can explore the nearby village during your down time.
Investment: (air fare not included)
Early Bird Pricing: (increases if booked after July 1 2017)
Shared Occupancy – $1995
Limited single occupancy available: $2500
How to register:
Your $350 deposit reserves your room! We expect this to fill fast. Deposits are non refundable.